Two high tech simulators allowing you to play the game worldwide… Master Augusta, Putt out Pebble Beach or conquer the Celtic manor Ryder Cup Course. YOU DECIDE.
It's as close to the real thing without the leg work. Use your own clubs or ours, play with real golf balls, drive as hard as you would off the tee outdoors – then it is down to skill and club selection to reach the pin.
Whether you're an accomplished golfer or a complete beginner, our indoor golf simulators and designated area provides a relaxed and informal environment to practice your game or swing a club for the very first time. And because you don't need to be a golfer to play our simulators, Redz is also the perfect venue for a works social evening or team building event as everyone can take part in playing!
Whether you want to practice on the range, aim for a nearest the pin or play match play golf, you can do it all at Indoor Golf at Redz!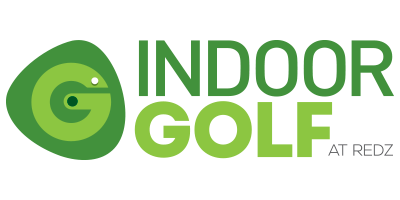 Augusta
Belfry
Celtic Manor 2010
Glenn Eagles
Medinah
Pebble Beach
St Andrews
Wentworth And many More! 
To book a game or to have a demonstration please get in touch with us below.
Provide us with your details in the boxes to sign up to 'The 19th Hole'! This is our exclusive newsletter that will be sent out to you monthly, providing you with the latest offers and events for our Online Golf Simulator.